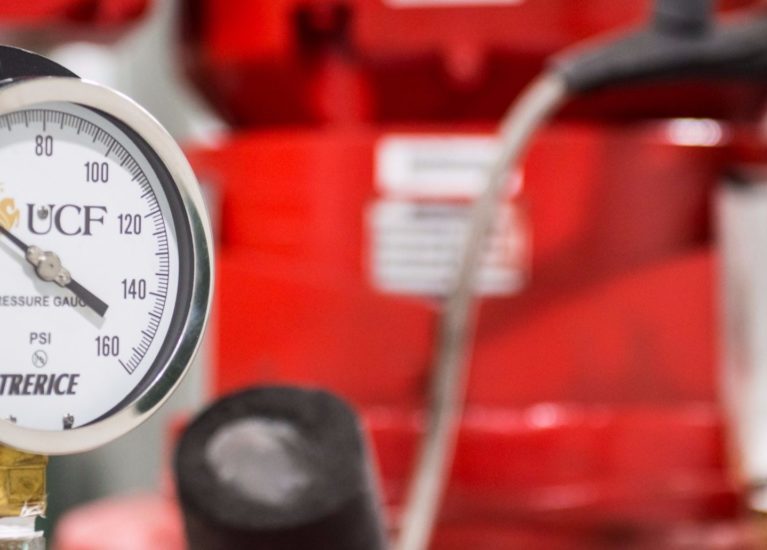 Efficiency and Modernization
Utilities & Energy Services provides a clearinghouse for energy management services at UCF. Our portfolio of services includes operations, maintenance, and optimization of all energy and water systems. A multi-protocol, multi-vendor direct digital control (DDC) building automation system is utilized to monitor and regulate heating, ventilation, air conditioning (HVAC) and lighting in campus facilities.
Energy Projects
In 2007, UCF's administration provided $1 million in seed money to start up and develop our own in-house energy services organization. Today, this revolving energy account returns anywhere from $1.75 million to $2.1 million annually, which is reinvested further in capital energy reduction initiatives, or "energy projects," like LED lighting retrofits and HVAC upgrades. This team has a commitment to demand side management; energy efficiency is realized as an asset, deferring capital expenses and reducing peak demands.
Optimizing Systems
The energy services division oversees both the building and system commissioning processes for new construction, building additions and renovations, performs energy surveys to prioritize backlog, optimizes HVAC via Testing, Adjusting, & Balancing (TAB), and employs real-time commissioning using analytic platforms. This team is also developing strategies to become our own in-house building automation controls integrator. To support critical building operations, we have also developed a portal for alarms with intuitive graphics to assist Facility Operations troubleshooting with the first responders who monitor these facilities 24/7.

Report An Urgent Situation Call day or night seven days a week at
407-823-5223 or email wcc@ucf.edu