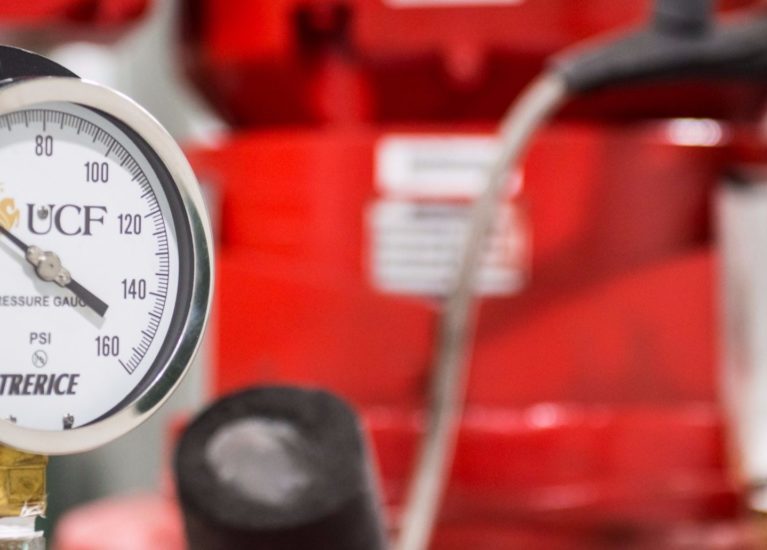 High Performance Buildings
26 Buildings Certified with LEED, 18 LEED Gold & 7 LEED Silver, 1.3 Million Square Feet
High performance buildings play an integral part to UCF's learning environment. As UCF continues to expand, our objectives include reducing the impact of buildings on the environment and human health. Like many of our peer institutions, UCF mandates Leadership in Energy and Environmental Design (LEED) certification for all new construction and major renovations.
UCF's administration has mandated 28 credits be incorporated into our Green Building Construction and Renovation Requirements with emphasis on energy, atmosphere, and water efficiency. Through the high efficiency standards we have put in place, these new LEED buildings are using about 30% less energy and 40% less water than their comparable counterparts.
UCF's design and building construction standards also adhere with industry best practices, based on continuing research and implementation of the American Society of Heating and Refrigeration Engineers. UES administers the LEED process to ensure the University's mission and goals are aligned and achieved in both energy optimization and water conservation. The department is a unique stakeholder in the green building design and construction process as we are involved from project inception through the life cycle of the building. UES serves as the University's principal advisor and approval authority for ensuring that the standards and practices for design, construction, and operation of all UCF facilities meet the specification requirements of the UCF Energy Sustainability Policy.
All new construction projects, renovations, and modifications to existing buildings and energy intensive systems are commissioned under the latest ASHRAE standard. Commissioning provides a standardized process to reduce project capital cost through the warranty period, and the life cycle cost of UCF's facilities in which essential systems are tested and verified to ensure operations are safe, efficient, and perform as designed.
View the UCF FAIRWINDS Alumni Center Case Study.
LEED Building Dynamic Data
If you cannot view the LEED Building Dynamic Data, you can access it
here.
Report An Urgent Situation
Call day or night seven days a week at
407-823-5223 or email wcc@ucf.edu