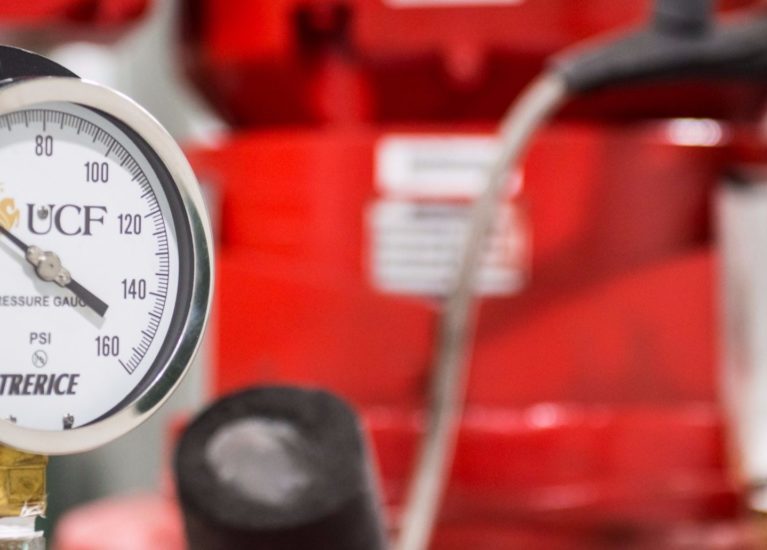 High Performance Buildings
30 Buildings Certified with LEED: 21 LEED Gold & 7 LEED Silver at 1.3 Million Square Feet
High performance buildings play an integral role in UCF's learning environment. As UCF continues to grow, our objectives include reducing the impact of buildings on the environment and human health. The U.S. Green Building Council's LEED® green building program is the preeminent program for the design, construction, maintenance and operations of high-performance green buildings. Like many of our peer institutions, UCF mandates LEED® certification for all new construction and major renovations through 28 credits incorporated in the Green Building Construction and Renovation Requirements with emphasis on energy, atmosphere, and water efficiency.
Why LEED?
LEED® buildings use about 30% less energy and 40% less water than their counterparts and promote occupant health and productivity through indoor air quality, mindful building materials, lighting, biophilia, and the alike. These mechanisms are surveyed and refined to ensure optimal occupant comfort upon pursuit of subsequent building certification. The UCF Collective Impact Strategic Plan highlights "the importance given to ensuring that the university strengthens its commitment to healthy environments and sustainable practices in everything it undertakes" (p. 30). LEED®'s evolving stringent standards, paired with aggressive energy strategies, can ultimately transform UCF into a healthier campus.
UCF has employed the LEED® Campus approach that documents applicable prerequisites and credits once that apply to the entire campus. The credits earned at the campus level are available to all individual LEED projects within the main campus boundary for future new construction and existing building certifications. View the LEED Main Campus Credit Guide and the LEED Downtown Campus Credit Guide for more information.
UCF FAIRWINDS Alumni Center was the first LEED® Gold project under the v4 O+M rating system at UCF with the help of many stakeholders and its occupants. View the UCF FAIRWINDS Alumni Center Case Study.
LEED Building Dynamic Data
If you cannot view the LEED Building Dynamic Data, you can access it
here.